Sunday Worship Schedule
Orthros: 8:45 a.m. Divine Liturgy 10:00 a.m.
Directory Photos!
We will be taking photos for our new directory on August 14 and 15 from 1:00-8:30 pm both days. You can sign yourself and your family up at the address below (copy and paste to your browser)
https://booknow-lifetouch.appointment-plus.com/ydz6hbm6/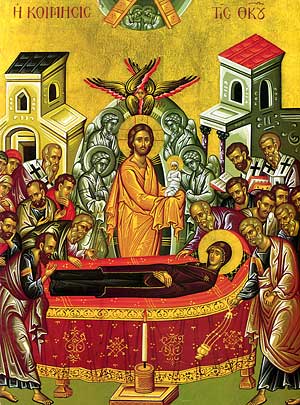 The Feast of the Dormition
The Feast of the Dormition of Our Most Holy Lady, the Theotokos and Ever-Virgin Mary is celebrated on August 15 each year. The Feast commemorates the repose (dormition and in the Greek kimisis) or "falling-asleep" of the Mother of Jesus Christ, our Lord. The Feast also commemorates the translation or assumption into heaven of the body of the Theotokos....
The commemoration of the Dormition of the Theotokos and the preparation for the Feast begin on August 1 with a period of fasting. A strict fast is followed on most of the days (no meat, dairy, oil, or wine), with the exceptions of fish on the Feast of the Transfiguration (August 6) and the day of the Dormition. Oil and Wine are allowed on Saturdays and Sundays.
On the weekdays before the Feast, Paraklesis services are held in most parishes. These consist of the Great Paraklesis and the Small Paraklesis, both services of supplication and prayer for the intercessions of the Theotokos. [Read more...]
---