Sunday of Holy Pentecost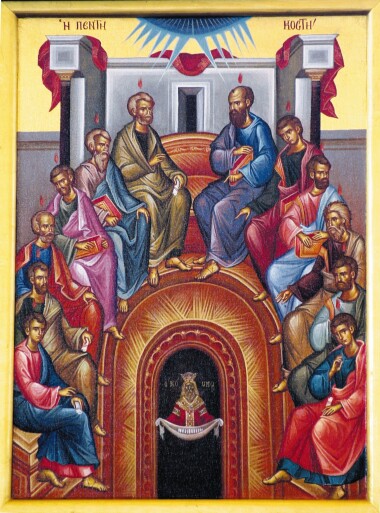 The Feast of Holy Pentecost is celebrated each year on the fiftieth day after the Great and Holy Feast of Pascha (Easter) and ten days after the Feast of the Ascension of Christ. The Feast is always celebrated on a Sunday.
The Feast commemorates the descent of the Holy Spirit upon the Apostles on the day of Pentecost, a feast of the Jewish tradition. It also celebrates the establishment of the Church through the preaching of the Apostles and the baptism of the thousands who on that day believed in the Gospel message of salvation through Jesus Christ. The Feast is also seen as the culmination of the revelation of the Holy Trinity....
The icon of the Feast of Pentecost is known as "The Descent of the Holy Spirit". It is an icon of bold colors of red and gold signifying that this is a great event. The movement of the icon is from the top to the bottom. At the top of the icon is a semicircle with rays coming from it. The rays are pointing toward the Apostles, and the tongues of fire are seen descending upon each one of them signifying the descent of the Holy Spirit. (Read more...)
Vacation Church Registration (June 25-29)
Sunday Worship Schedule
Orthros: 8:45 a.m. Divine Liturgy 10:00 a.m.
Pentecost Services on Sunday, May 27th start earlier! Orthros will be at 8:15 a.m. Divine Liturgy at 9:30 a.m. followed by the Kneeling Vespers.
---